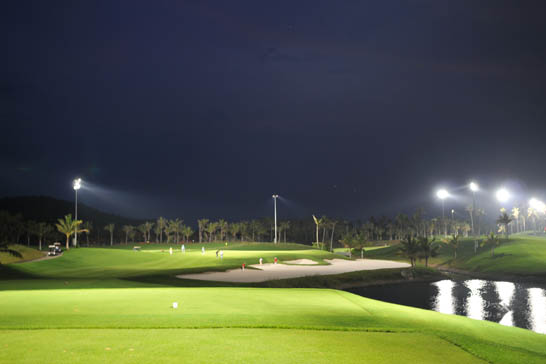 LIGHTING REQUIREMENTS
The golf course has 4 areas: tee mark, flat road, hazard and green area.
1. Tee mark: the horizontal illuminance is 100lx and the vertical illuminance is 100lx in order to view the direction, position and distance of the ball.
2. Flat road and hazard: the horizontal illumination is 100lx, then the road can be clearly seen.
3. Green area: the horizontal illuminance is 200lx to ensure accurate judgment of terrain height, slope and distance.
INSTALLATION RECOMMENDATION
1. The lighting of the tee mark should avoid strong shadows. Choosing a wide-range light distribution lamp for close-range projection. The distance between the light pole and the tee mark is 5 meters, and it is illuminated from two directions.
2. The fairway lighting uses narrow light distribution flood lights to ensure that the golf ball has sufficient vertical lighting and uniform luminance.
3. There should be no dead zone of lighting and no glare.
---
Post time: May-09-2020